About us ...
Approved by NCTE Ė F. SRO / NCTE / B.P.Ed./2006 -07/16881 Dt. 11.01.2008 F.SRO/NCTE/SRCAPP1993/M.P.Ed/TN/2016-17/85760 Dt.01.06.2016 and
Affiliated to the Tamil Nadu Physical Education and Sports University.
St. Johnís College of Physical Education is one of the Educational Institutions owned by St. Johnís Educational Trust, Veeravanallur. The college was started in 2007 as St. Johnís College of Physical Education at 1/12, Avanimoola Vinayagar Koil Street by Mrs. E. Mangayarkarasi @ Grace Doris Hannah, who is the founder Manager of St. Johnís Institutions.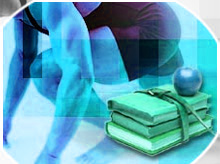 Location & Campus
St. Johnís College of Physical Education, is situated on the Veeravanallur to Thirupudaimaruthur road, 800 m away from Veeravanallur Bus Stand and 1 Ĺ km away from Veeravanallur Railway Station. Our College campus and Play ground cover an area of 8 acres 31 cents.
Vision
The college aspires to prepare prospective teachers and educational leaders who are committed to life-long learning in a changing world and who seek to offer exemplary educational services to improve the quality of life in the society especially in the rural areas.
To provide harmonious education to prospective teachers that will cater to the cultural, moral, intellectual, emotional and spiritual dimensions of the sacred mission of education.
Mission
The college aims at producing socially inclined, morally and ethically upright, professionally skilled and dedicated educators of tomorrow through the development of the fundamental values of life. Teachers are the beacons of light in every society, the moral development and discipline of them are the foundation to serve the society genuinely.
Motto
ĎENTER TO LEARN, LEAVE TO SERVEí